Adobe reader
has been the favorite pdf reader for sometime now. That's mainly because its free! But nowadays there are many free pdf readers which can actually work out better for you.
I personally did not like Adobe reader because its a heavy application and it comes with a lot of additional services. Its kind of resource hungry and even adds a browser plug in which was seriously slowing down my browsing speed! Its a bit too much just to read a pdf isn't it?! That's when i decided to look for other pdf readers. There are so many
open source free pdf readers
which are a lot lighter and better. First i would go through some of the open source pdf readers and later some of the freewares.
This is a simple document viewer. It can view multiple document formats like
pdf, postscript, djvu, tiff, dvi and many others.
It provides search, thumbnail view and page indexing features.This is an open source tool.
This one is my favorite reader. Its fast, simple and comes with some very handy features. Its a proprietary/freeware software.
Search feature is efficient. There is an option to convert the pdf to text file. You can open multiple
PDFs
in tabs. Previously the app had some bugs but the newer version seems to have rectified almost all!
The latest version is 4.3 and its available for both Windows ad Linux
operating
systems
.
Image source : wikipedia
Its an open source pdf viewer. The xpdf project also includes
includes a PDF text extractor, PDF-to-PostScript converter, and various other utilities.
Xpdf runs under the X Window System on UNIX, VMS, and OS/2. The non-X components (pdftops, pdftotext, etc.) also run on Win32 systems and should run on pretty much any system with a decent C++ compiler.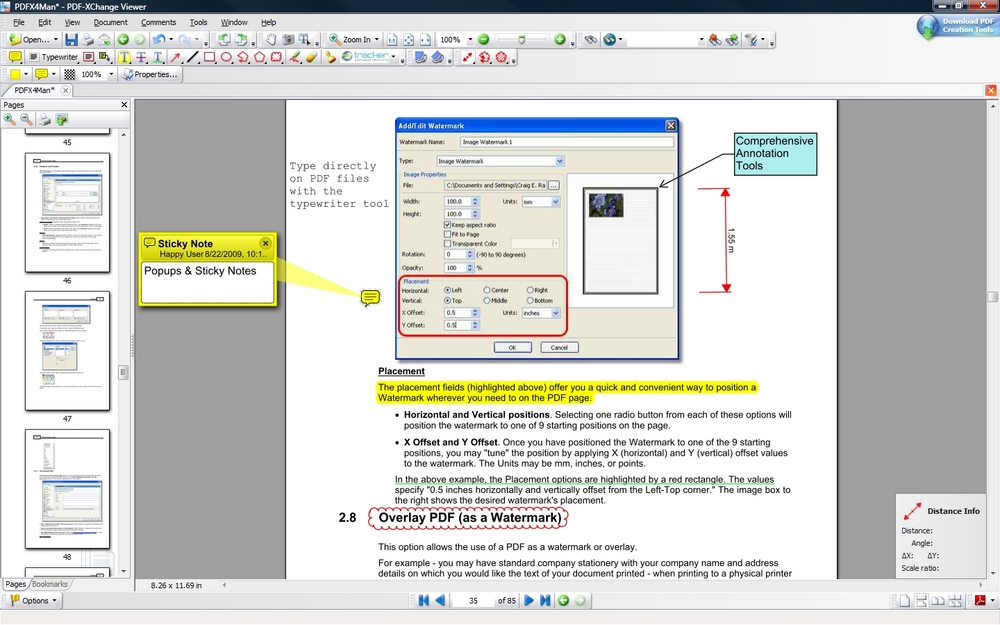 Source : tracker-software.com
Is a simple free pdf reader for Windows OS. I
ts fast to load and rich of features.
Apart from basic reader it provides editing capabilities. Yes.. now you can edit your pdf for free! It allows you to export your pdf to BMP, JPEG, TIFF or PNG format.
This is the smallest pdf viewer/reader available right now with a size of just 650KB. And because of that it loads the fastest!
It lets you view, print and convert PDFs to other formats.
The shareware version allows to convert pdf to and exe file so that it can viewed in any system without having installed any pdf reader.
Another light weight pdf reader with size just around 1-2MB.
It has a simple design. No over crowded keys and functionalities. It simply performs the view opeartion.
Source code of this tools is available. Its Portable out of box.
If you dont want to have a dedicated application for pdf viewing you can also use Google chrome browser to view it. It comes with some basic functionalities and can be helpful.
Apart from these there is always the Adobe reader. Its the complete package with all the features implemented perfectly. But why download a 30-40MB application when the same functionality is provided by applications which are KBs in size?!
Please leave a comment so that know if this post is helpful or not. Also mention if any changes is required. It could help others :)